streamR is our unique promotion that offers players that chance to get extra rakeback, a lot of extra rakeback – when they stream our gameplay on Twitch or YouTube.
If you've ever thought to yourself, "maybe I should start streaming" … this promotion is for you.
View more information about streamR on our website
---
How do I earn extra Rakeback?
The percentage of Rakeback varies based on what kind of success you have as a streamR. Qualification for each level will be primarily based on your total watch time per month, and you'll primarily be rewarded with net rakeback.
What is Watch Time?
Watch Time is the number of hours of your stream that have been watched by someone, with all viewers added together. Example: If you stream today for 4 hours with 10 average viewers, your watch time for that stream is 40 hours.
What is Net Rakeback?
Net rake is simply the amount that a player ends up paying in rake after you factor in any rakeback or rewards.
Net rakeback is the % of rakeback that you'll receive based on the bet rake you've contributed. When calculating net rakeback we'll take into account the 51% rake you're awarded through Splash the Pot first (or any other amount applicable at the time), then subtract any deposit bonuses, and any other relevant bonuses.
Example:
If you pay €100 in rake and receive €61 in bonuses/awards and become a Level 1 streamR (50%):
1) We subtract 51%, for the rakeback you received via STP: €100 – €51 = €49
2) Then, we subtract bonuses you received to get your net rakeback: €49 – €10 = €39
3) Lastly, we award 50% of your net rakeback: €39 * 0.50 = €19.50.
The following table shows the milestones to reach each streamR level: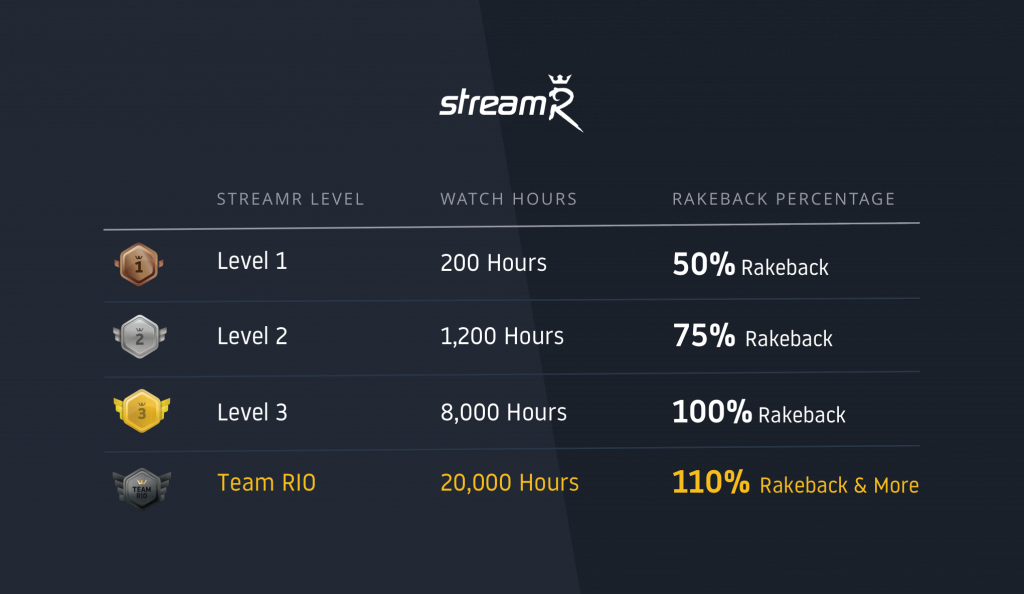 If you're curious what it will take to achieve each level, check out our Level estimator tool.
Level status will be determined on a month by month basis for the first 3 months. At the end of a given month, our team will review the reports and statistics of all streamRs, and determine the status Level of every streamR. Then, within 7 days the Net Rakeback will be distributed into streamRs accounts.

---
How do I get started?
Anyone who wants to support Run It Once Poker while streaming needs to first apply for this promotion. Our team will review the application, and once accepted into the program, streamRs will gain access to a personal, private login page where they will be able to download our streamR tutorial guide, digital assets, and the reporting tool.
Check out our Set Up Tutorials here
---
Streaming requirements
As with any promotion, there are some requirements streamRs must follow:
Videos on demand – streamRs must make their videos on demand (VODs) available to our team.
Run It Once graphics – streamRs must ensure one of the Run It Once provided graphics are displayed at all times while streaming. Download our Run IT Once graphics
Active webcam – StreamRs must have a webcam featured at all times while streaming.
Report within 7 days – streamRs must report the number of hours streamed on a weekly basis, along with the type of stream (At least 1 RIOP table or Exclusively RIOP tables).
Minimum stream time – Every month streamRs will be required to stream a certain number of hours with at least 1 Run It Once Poker table featured on stream, as well as a certain number of hours streamed featuring only Run It Once Poker Tables.

---
Reporting
streamRs must submit their hours for each streaming session within 7 days of their session. Reported sessions must be split by:
sessions with at least 1 Run It Once table,
sessions featuring only Run It Once tables.
---
Questions?
If you still have additional questions post them in our dedicated Discord channel or send us an email.
Discord: #streamrs
email: [email protected]
---
Related FAQs

Do I have to stream Run It Once Poker exclusively to participate in this promotion?
You don't have to be an exclusive Run It Once StreamR. You will be able to stream poker on other sites, as well as other games. However, there are requirements for hours streaming Run It Once Poker tables.
Are streamRs required to have a webcam on while streaming?
Yes, we will require our streamRs to use a webcam while streaming.
How do you monitor the number of hours streamed each month?
streamRs are required to submit hours on a weekly basis which we will cross-reference with Twitch statistics. We'll also have team members monitoring streams regularly to verify the hours are correct.

Check out our streamR Terms and Conditions.