At Run It Once Poker we appreciate poker for what it is, a game of skill. We believe that given a long period of time, any player who plays better than his/her opponents should win money, not lose to the house. Then, if they have what it takes, we believe they should be able to play the game professionally. That is our Poker Dream.
To make sure we deliver on that dream, we closely monitor our prices with the aim to always keep our games fair and beatable.
What is Rake?
Run It Once Poker takes a small fraction of every cash game pot in order to continue to run our games. This is known as the rake.
The amount of rake varies depending on the game type, stakes, and number of players dealt in to the hand.
Run it Once Poker does not charge rake in cash games if no flop is dealt. "No Flop, No Drop!"
Rake in cash games is calculated as a percentage of the pot at the end of the hand, up to a certain maximum known as the "cap". For example a rake of 5% with a €2 cap will rake 5% of every pot, unless the pot is sufficiently large such that 5% of that pot amounts to greater than €2, and in those cases only €2 is taken as the rake for that hand.
Rewards
30% of the cash game rake we collect is returned directly to the table through our Splash The Pot rewards.
You can also earn up to 45% additional rakeback in both SNG Select games and cash games through our Legends rewards program.
On top of this we offer various Bonuses and Promotions such as our First Deposit Bonus and streamR; our unique live-streaming rewards program that rewards you with extra rakeback depending on how much your followers watch your broadcast.
Rake Structure
Cash Games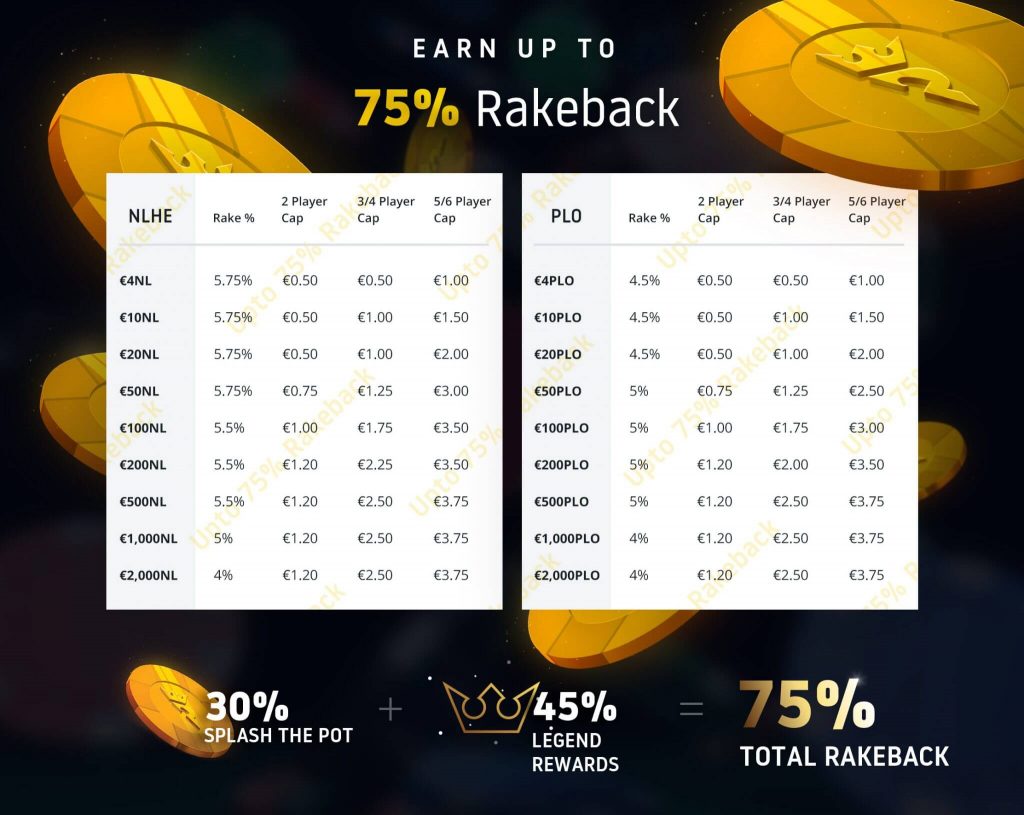 SNG Select