Run It Once Poker is a poker site for all players. Whether you play for fun and simply want to jump into the action, or if you play the game professionally and don't want to deal with the hassle of choosing the perfect seat and buy-in amount, simply relax and enjoy focusing on what made you love poker in the first place.
Open our lobby, pick your game and stake, and just play.
Seating System
We use an auto-seating method to seat players in our cash games. After choosing your stake you'll be presented with a straightforward buy-in screen: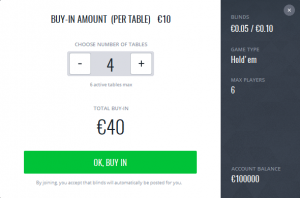 No long list of tables to scroll through, no seat to choose. Simply choose how many tables you want to play, and you'll be seated right in on the action.
For a step by step guide to getting seated see Joining a Table.
FAQs
Can I join a cash game table with less than 100 Big Blinds at any time?
No. You must buy in for 100 Big Blinds at any stake, though if you lose chips you will not be forced to top up to 100 Big Blinds. But do note that if you leave the table and attempt to rejoin, you must sit with 100 Big Blinds.
Keeping buyins to 100 Big Blinds keeps our buy-in system easy to use, ensures a level playing field for all players, and gives players the maximum play for their money by keeping stacks deep.
Is there a cap on the number of tables I can play?
Yes. We only allow a maximum of 6 simultaneous active tables per player. This was decided by the Run It Once community in an open vote.
Can I choose my seat?
No. We only allow users to choose the stake they wish to play, and number of tables. This is not just for ease of use, but is part of our effort to eliminate predatory behaviour, particularly seat scripting (the process of "gaming" the system in order to sit at the same table as weaker players). For more information on how we do this this see our policy highlights.
How many players are required to start a table?
We require a minimum of 3 players to start a new table at all stakes, with the exception of €200 Pot Limit Omaha, which requires 2 players minimum.
What if I can't join a table?
If there are no tables available when you choose to sit at a stake, you will be placed on a "waiting table" while waiting for other players to join to start a new table, or a player at an existing full table leaves. It can take a moment for a seat to open up, so be patient!